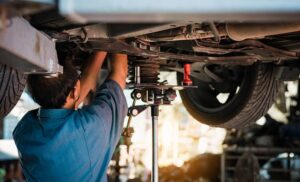 Fleet maintenance is the process of keeping delivery and distribution vehicles running smoothly so they can travel farther between breakdowns and remain on the road for longer. Transporting goods in compromised vehicles is a significant safety risk because fleet vehicles travel great distances and endure a variety of climatic conditions.
Businesses engaged in the distribution and delivery of goods as well as the provision of people mobility services can benefit from routine fleet maintenance and repairs in a number of unanticipated ways.
What makes routine fleet maintenance so crucial?
The fleet's productivity and on-ground life are enhanced by routine maintenance.
It increases delivery effectiveness and significantly lowers rates of delivery delays and missed deliveries.
Customer satisfaction with a brand is increased by punctual deliveries and transportation in well-maintained vehicles.
Regular maintenance lowers the business' fleet repair and replacement costs.
The fleet's resale value can be increased by keeping accurate maintenance and service records.
Businesses Who Would Benefit from Our Fleet Maintenance Management Services
If your business relies heavily on its fleet of vehicles, fleet maintenance should be taken seriously. For these kinds of businesses to maintain and increase operational efficiency while lowering unforeseen costs, managers need to make sure their vehicles are in good working order.
Examples of businesses that require dependable and efficient fleet maintenance procedures include the following:
Trucking companies: Long-distance fleet tracking and monitoring will be advantageous for trucking companies. Given that these trucks will travel a lot of miles, it makes sense to regularly inspect the car and make sure it is operating at a high level.
Car rental services: Car rental businesses would profit from effective fleet management because customers need to be given access to functional, safe, and law-abiding vehicles. Additionally, tracking these vehicles might be useful if anything less than ideal occurs.
Farming maintenance organization: The effectiveness of the various vehicles and machines used in farming depends on their performance and efficiency. For a farming operation to be successful in the long run, it is essential to regularly check that these vehicles are in working order.
Businesses that provide delivery services:

It almost goes without saying that delivery and courier services should rely on a fleet management system that prioritizes fleet efficiency.
Employ the top team for fleet maintenance:
First things first: there are three different categories of fleet maintenance employees: drivers, mechanics, and fleet managers.
Drivers: More than anyone, drivers interact with fleet vehicles. They are required to conduct daily diagnostics as a result. The first people to notice and report vehicle warning signs should be fleet drivers.
Fleet mechanics: To carry out routine maintenance on fleets of vehicles, large organizations frequently make investments in specialized in-house mechanics. However, many businesses find that outsourcing their fleet maintenance requirements to service facilities and authorized garages is more cost-effective. When necessary, these technicians carry out maintenance tasks.
Fleet managers: Fleet managers are in charge of the fleet's overall maintenance plans. They are the foundation of all maintenance schedules and plans. Additionally, fleet managers are in charge of buying and selling used cars. In addition to upholding safety standards, their main goal is to maintain the value of the vehicle by planning routine maintenance, planning fuel-efficient routes, and making wise buy/sell decisions.
What can be done to enhance fleet management?
Using fleet management software is the simplest way to enhance fleet management and maintenance programs. These platforms allow businesses to keep track of every vehicle in a single database. Additionally, managers can schedule repeating work orders, integrate inventory and parts management, monitor driver behavior, and assign standard operating procedures (SOP) checklists.
Fleet management software, also known as Computerized Maintenance Management Systems (CMMS), occasionally offers tracking systems, remote control of speed and engine revolution, and remote security features. Managers can keep an eye on assets for opportunities for improved driver scheduling, cost-control, and maintenance effectiveness thanks to the software.
One such supplier with smartphone compatibility, instant messaging, and a user-friendly interface is Jandl Fleet maintenance.
How mobile truck service can be beneficial for fleet and maintenance
Have you ever considered how much it costs a driver to take a truck to the shop for maintenance and repairs?
Mobile maintenance can help with that. Mobile fleet maintenance brings the repair facility to you.
Preventive maintenance and repairs can be carried out almost anywhere by mobile maintenance companies, including your facility, an off-site lot, the field, or a driver's house. Additionally, they can make repairs and provide breakdown assistance.
Fleets can generally benefit from mobile maintenance in many ways:
The Advantages of Mobile Truck Maintenance
Anyone who has ever experienced a breakdown is aware of how inconvenient it can be to be left stranded on the side of the road, particularly if you have a tight schedule. If your business depends on a fleet of vehicles, this may be even more challenging because a breakdown could delay deliveries or even damage your company's reputation.
The good news is that there are businesses out there that can assist by offering prompt, efficient breakdown services and repairs when you need them the most. You might be looking for ways to save money if your budget is tight, but skipping out on purchasing truck repair coverage shouldn't be one of them. If you want to learn more about these services and their numerous worthwhile advantages for your company and vehicles, continue reading our helpful guide.
It's convenient
Even though breakdowns are extremely inconvenient, mobile truck repair services make sure you can get the assistance you require as soon as possible. Because mobile breakdown vans are stocked with a variety of spare parts, technicians can visit your vehicles on the spot and frequently after regular business hours. Get the maintenance you require right away to avoid the hassle of planning repairs at a later time.
Quick responses
You can quickly resume driving thanks to the incredibly quick response times provided by mobile repair trucks. You don't have to waste time arranging to have the truck moved to another location for repairs because specialized roadside engineers are prepared to come to you.
Modern technology
Since many mobile repair trucks are already outfitted with generators, air compressors, welding equipment, and specialized diagnostic tools, having a mobile workshop does not mean you have to compromise on equipment. The newest technology, such as breakdown apps, is frequently used by these vehicles to provide the quickest, most effective repair services.
Find problems early
They will quickly become accustomed to your fleet's vehicles and how they operate if you use a regular mobile repair service. Numerous businesses provide mobile maintenance services in addition to any repairs you might require, enabling you to keep an eye on any minor problems before they get worse.
Contact the team at Jandl Fleet Maintenance if you require extensive on-site services and mobile repairs. In USA, we take pride in providing prompt roadside assistance services. We have everything you require to quickly get back on the road. For more information, give us a call right away or visit our website. With quick response breakdown vans and a fleet of fully stocked mobile workshop vehicles, we're ready to assist.